A downloadable stuffed unicorn sewing pattern
Whenever this little stuffed unicorn softie appears on my instagram feed I'm always asked if the pattern is available. There's something sweet and magical about unicorns and I think that having a little unicorn softie around probably adds a little bit of magic to your day.
Now, I'm excited to announce that I've just released the PDF sewing pattern for this unicorn in my etsy shop… and I have a few more sweet and simple softie patterns that I hope to be releasing for sale in the near future.
If you'd like to be the first to know when my patterns are released and receive special email subscriber only discounts then don't forget to sign up to my email list.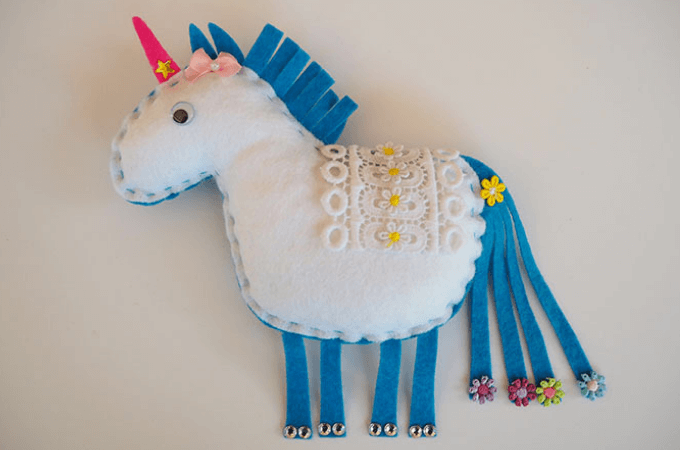 This unicorn is perfect for kids and beginner sewists. Once you can sew a running stitch you're ready to go. If you are sewing this pattern with older kids, you can make it smaller and turn it into a unicorn pin or bag tag. And remember unicorns love lots and lots of decorations!
If you do sew the unicorn please pop over and join the Sew a Softie facebook group and show us what you've made.
The two unicorns below were sewn at a workshop I ran at The Art Gallery of NSW in conjunction with their exhibition featuring The Lady and the Unicorn tapestries.
Meet the newest unicorn softie.
And now, there's another sweet unicorn softie in the world…it's my little Gwennie. Gwennie unicorn stars in my new book: The Zenki Way: A Guide to Designing & Enjoying Your Own Creative Softies. (This is an affiliate link)
Gwennie has less sparkle but more flair. She's the sort of unicorn you might find living next door! Nothing like the unicorns in those medieval tapestries but just as magical.