Looking for a free frog softie pattern? Well then, meet Froggy.
I designed this little Froggy when I first started making softies. When I was little I loved all those beanie rice frog softies that were popular at the time. I never had my own beanie frog so when I started sewing softies, I knew I had to make my own beanie frog.
Part of his charm is the squishy feeling that the rice grains Froggy is filled with gives him. Even more fun is that because this frog softie is filled with rice, he can sit in all sorts of cute positions.
Recently I was reminded of Froggy when one of the ladies in the
Sew a Softie Facebook group
posted a picture of a softie dog she designed to remind her of a favourite childhood toy she had.
So here's my handsome little frog…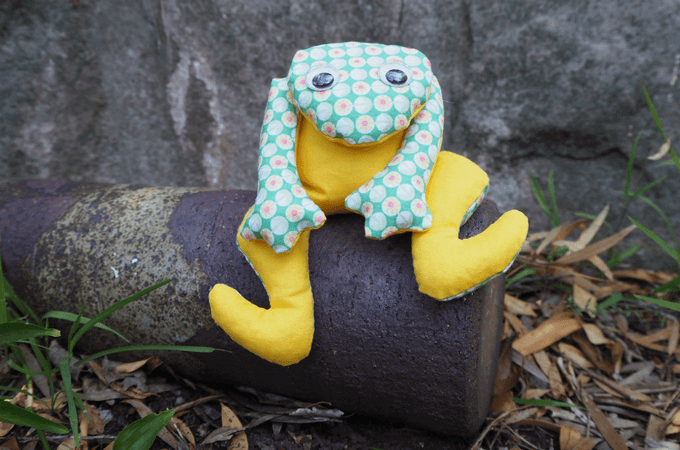 Froggy is one of the softie projects in my book Sew Together Grow Together: Sewing Projects for Parents and Kids but here's a quick free frog softie pattern for you to try.
WHAT YOU NEED:
Plain fabric
Patterned fabric
Thread
Pins
Wiggly eyes
Rice grains or any other weighting material
Glue
WHAT TO DO:
1) Download and cut out the template
2) Pin your two pieces of fabric right sides together
3) Place the template on the fabric and trace around. The line you are drawing is your sewing line.
4) Sew around Froggy leaving a gap for turning.
5) Trim 1/4″ from your sewing line. Make small snips in the fabric as indicated by arrows in the template and be careful to not cut your sewing line…and now turn right side out.
6) Fill Froggy with about one and a half cups of rice…pin and sew the gap closed.
7) Glue on wiggly eyes.
Remember…Froggy needs to be sewn with a small running stitch or back stitch so that the rice doesn't "leak" out.
In classes I only make Froggy with my "experienced sewers" as his curves can be a bit tricky to sew, especially around the little webbed fingers…so if you're making this with your kids and want to simplify his curves you can round out his hands as shown by the dotted line in the template.
The girls in my classes LOVE to dress Froggy up…tutu-like skirts from lace, beaded bracelets, little knitted scarves, necklaces, bows/ribbons, etc…as you can see, Froggy usually ends up as a girl…my Froggy, however, is a boy.
If you're not sure what stitches to teach your kids take a look at my Essential Stitches guide.
Want to see similar projects…Check out all my book at my
etsy shop
Happy sewing, Trixi